The fertilizer granulators produced by Zhengzhou Huaqiang Heavy Industry Technology Co., Ltd. include organic fertilizer granulator, disc granulator, drum granulator, npk fertilizer granulator,
double roller granulator
, two in one organic fertilizer granulator, drum granulator, flat die pelleting machine, and ring die pelleting machine.
The production line of organic fertilizer granulation can process fertilizer into granules, in which fertilizer granulation is an important process in the production line of organic fertilizer, and the quality of granulation affects the quality of the final fertilizer.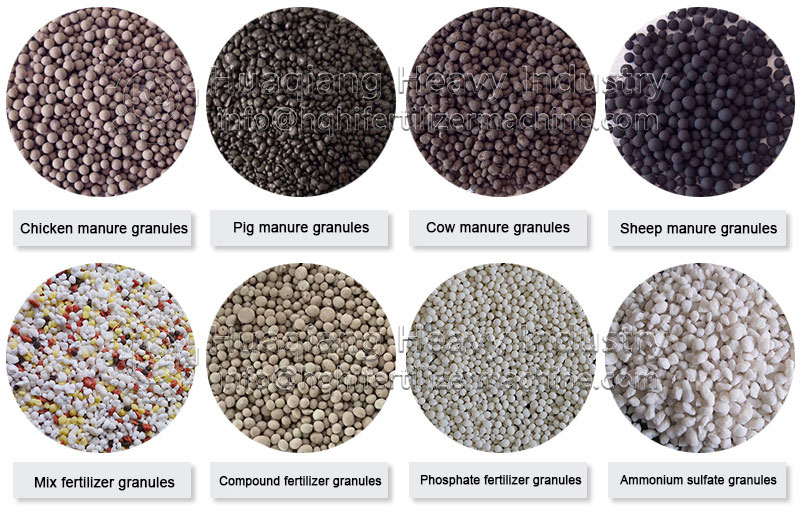 Purpose of use of
fertilizer granulation machine
1. The control of fertilizer particle size is very important for the storage and transportation of fertilizer. Good granulation makes the organic fertilizer not caking easily and has better transportation performance.
2. The fertilizer with low water solubility usually needs to be milled into small particles to ensure its effective and rapid dissolution in the soil and absorption by plants.
3. Some inorganic components can be added in the production line of organic fertilizer granulation to improve the fertilizer efficiency of organic fertilizer, while powdery fertilizer is easy to absorb moisture and caking if inorganic components are added.
4. The fertilizer granulation machine improves the agricultural technology. The fertilizer particles play the role of slow release of fertilizer efficiency, and it is convenient to apply fertilizer and not easy to be blown away by the wind.