The
double roller granulator
mainly relies on the external pressure mode, so that the materials are forced to pass through the gap between the two opposite rotating rollers and compress into pieces. The actual density of the material can be increased by 1.5-3 times to reach a certain strength standard. It is especially suitable for increasing the proportion of product stack. The size of extrusion pressure can be adjusted by hydraulic pressure. The structure of twin roll extruder is not only scientific and reasonable, but also has less investment, quick effect and good economic benefit.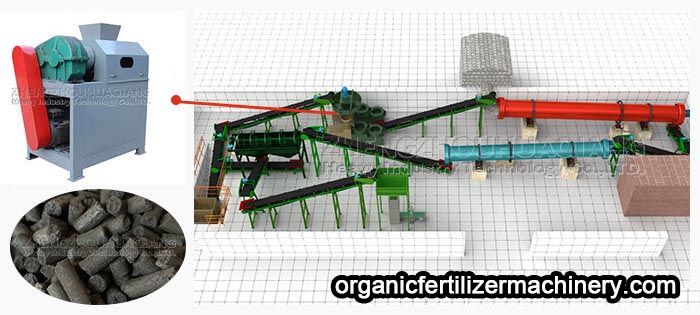 The characteristics of the double roller granulator are as follows
1. The double roller granulator is a new type of granulation equipment, which not only saves energy and reduces consumption, but also does not need fuel oil, gas and other drying measures compared with other methods. The new type of double roll extrusion granulation equipment does not need additional adhesive.
2. The raw material composition of the

fertilizer granulation machine

is flexible, and the raw material route of extrusion granulation is wide. Moreover, the extrusion granulation process equipment can flexibly realize the change of product formula in a very short time. A set of device can produce dozens of products with formula.
3. Simple structure, easy to use: ball and socket alignment adjustment design is simple, convenient for customers to operate and adjust. Provide roller skin adjustment drawing and operation steps.
4. The roller granulator not only has a scientific and reasonable structure and advanced technology, but also has the advantages of less investment, quick effect and good economic benefit.
5. Power output: the motor reducer is guaranteed for one year, and the motor is driven by the belt connection. The power output is stable, and the extrusion force is balanced while protecting the motor. The granule forming effect is good and the unit strength is stable.
6. Factory debugging and trial operation: before leaving the factory, each machine is tested and produced by professional technical workers, and delivered after reaching the design index.