Double roller granulator
is a dry granulation process in which solid materials are agglomerated by pressure. The material is extruded by two counter rotating rollers, which are driven by eccentric sleeve or hydraulic system. The utility model has the advantages of reasonable structure, convenient operation, small power, high output, stable and reliable performance, etc. It is suitable for pelleting of organic fertilizer with livestock manure, peat, crop straw and sludge as main raw materials, and also for pelleting of feed industry.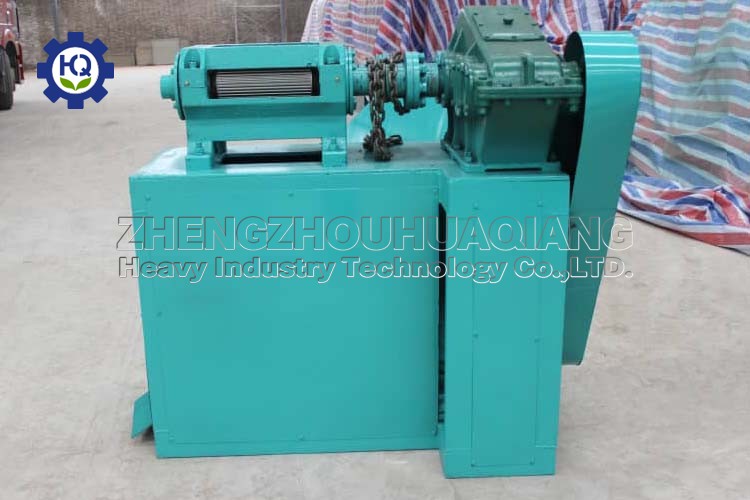 Strength and type of particles processed by double roller granulator
1) Balling rate: 95%
2) Unit crushing strength: 10-25n
3) Material moisture requirement: no more than 15%
4) Output: 1-4t / h (multiple granulators can be combined to increase output)
5) Particle size: 3-8mm, now the best-selling roller particle diameter is 2.8-4mm
Zhengzhou Huaqiang Heavy Industry Technology Co., Ltd. mainly produces organic fertilizer machines: disc granulator, npk fertilizer granulator, double roller granulator,
organic fertilizer granulation machine
, drum granulator, flat die pelleting machine, and ring die pelleting machine, vermicelli machine, fertilizer mixer machine, fermentation compost turning machine, coating machine, packaging machine, etc., and sells 1-200000 NPK fertilizer production line, organic fertilizer production line, bio organic fertilizer production line, BB fertilizer complete equipment. Our products are energy-saving, convenient, environmental protection and efficient, and have reached the leading level of the same industry in the world. Zhengzhou Huaqiang Heavy Industry Technology Co., Ltd. has a superb technical team, domestic and foreign first-class partners, scientific and standardized customer training system. We look forward to cooperating with you!