In a complete fertilizer production linel,it is equipped with different series fertilizer machines to finsih the production process.In the bio organic fertilizer production line,it is equipped with different type
organic fertilizer machine
.The complete fertilizer manufacturing process can be divided into three parts:fermenting parts,crushing parts and granulating parts.We take the bio organic fertilizer production line as the example to state what type fertilizer machines are used in the fertilizer production line.
Common equipment of bio organic fertilizer production line includes:
1.Fertilizer crusher machine series:In the fertilizer crusher machine series:the common equipment we can choose according to the working mode:vertical disc crusher machine and horizontal crusher machine.According to the working principle,we can divided into the half wet materials crusher machine,and according to the usage it included the urea crusher.
2.Fertilizer mixer machine:The common equipment can be divided into different type,according to the working mode,it mainly included the disc mixer machine,horizontal mixer machine.According to working principle,it can be divided into the double shift mixer machine,which it usually equipped in a large scale
fertilizer manufacturing process
to finsh the production process.The mixer machine are mainly used to mix the raw materials with other type additional raw materials.
3.Fertilizer screener machine:The fertilizer screener machine is mainly used to grind the big and hard raw materials in the fertilizer manufacturing process.According to different working mode,we can divided it into the drum screener machine and the vibrating screener machine.And we also can divide it by the working principle to the solid-liquid separator.
4.About the conveyor:The series conveyor machine according to working mode can be divided into fighter elevator,belt conveyor(large angle belt conveyor,mobile belt conveyor)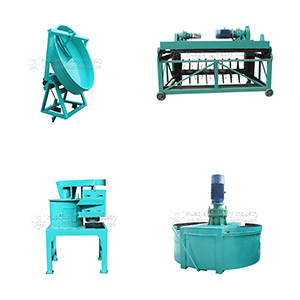 5.
Fertilizer granulator machine
:The series fertilizer granulator machine may be the factor equipment in the granulating process.Using different granulating method,we can use different type fertilizer granulator machine.For example,we can use the
rotary drum granulator
machine in the organic fertilizer production line or npk fertilizer production line to produce the organic fertilizer granulator or compound fertilizer granulator.According to the working principle,we can classified the fertilizer granulator machine into the roller press granulator,ball shaping machine and wet granulator.Finally,according to the purpose we can make the granulator machine into the bio organic fertilizer granulator.
These are some mainly fertilizer machines are used in the fertilizer manufacturing process,besides these fertilizer machines,we also designed the dryer machine,cooler machine and other supporting equipment are used in the production line.Other supporting equipment are mainly included the automatic batching system,rotary coating machine,rotary cooling machine,quantitative packing scale and tipping machine.