Pig manure organic fertilizer production line can effectively solve the environmental pollution caused by manure and reduce the eutrophication of surface water caused by pollution. At the same time, pig manure organic fertilizer is conducive to improving the safety and quality of agricultural products, laying a good foundation for people to eat green food and organic food in an all-round way, and the ecological and environmental benefits are extremely significant.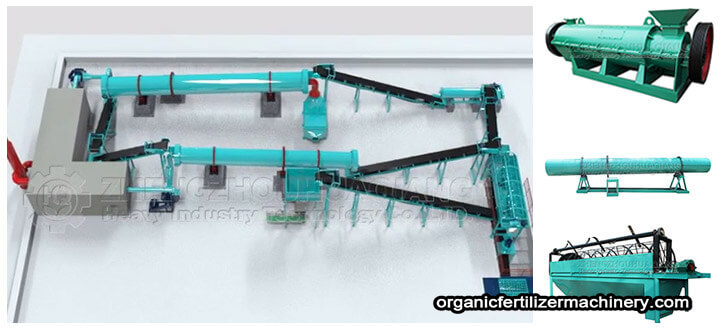 General process of pig manure organic fertilizer production line
① Raw material fermentation deodorization - ② raw material crushing - ③ raw material automatic proportioning system - ④ mixing material - ⑤ organic fertilizer granulator,
double roller granulator
, two in one granulator, disc granulator, rotary drum granulation (multiple organic fertilizer granulation equipment can be selected) ---- dryer drying organic fertilizer particles (drying heat source Huaqiang heavy industry provides a variety of options) -⑦ cooler (cooling and cooling organic fertilizer particles )-----⑧ Screening machine (screening qualified organic fertilizer particles) ---- 9 coating machine coated particles (increase product gloss, good selling, coating raw materials have no adverse effect on fertilizer efficiency) ---- 10 packaging scale (automatic weighing, bag filling, automatic sealing).

Advantages of Huaqiang pig manure organic fertilizer production line:
1. Organic fertilizer production equipment investment less, quick results, good economic benefits, for you to bring huge wealth.
2. The process layout is compact, scientific and reasonable, advanced technology, energy saving and consumption reduction, no three wastes removal, stable operation, reliable operation and convenient maintenance.
3.
Organic fertilizer granulation machine
is suitable for a wide range of raw materials, and the product granulation rate is high. Zhengzhou Huaqiang Heavy Industry Technology Co., Ltd. adopts direct selling to refuse middlemen to earn price difference.