China has a vast territory and rich raw material resources for organic fertilizer equipment. It is understood that the final urine excreted by a pig in one year combined with litter can produce 2000-2500kg of high-quality organic fertilizer, which is enough for one mu of land to use fertilizer throughout the year. Ingredients, content of more than 6%, organic content of more than 35%, are higher than national standards.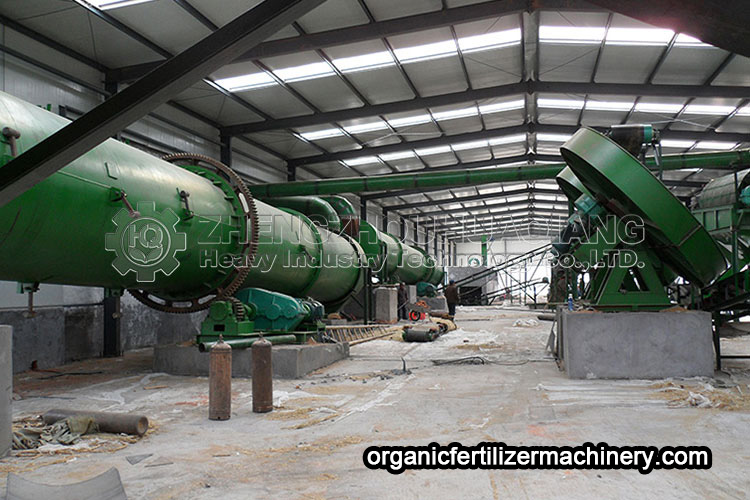 Rotary drum granulator
belongs to one of the key fertilizer granulating equipment for making compound fertilizer granules which is applied to both cold and heat granulation with high,medium and large scale production.This compound fertilizer granulator can make both low and high concentrations of compound fertilizer granules.The finish inside of the rotary drum granulator is made by a special polyethylene resistant rubber sheet.The rotary granulator has advantages of high rate compound fertilizer granulation rate,good appearance,corrosion resistance,low energy consumption,easy operation and maintenance,except this kind of drum granulator,our mutifunctional double roller granulator can also make compound fertilizer.The high efficiency fertilizer granulation machine is considered as the most important equipment in large scale compound fertilizer production.By adding a certain number of steams and vapors, raw materials in the rotary drum granulator will become uniformly humid during the granulation process. Then a series of chemical reactions will occur.In this rotary granulator machine,the fertilizer particles squeeze each other and roll into fertilizer particles.The uniformly formed fertilizer particles can be 3-8mm.With the continuous adding of raw materials and rotating of the drum, a large scale production as well as the working efficiency will be insured.
In organic fertilizer production line, it is to be equipped with the fermantation compost turner machine to ferment the raw materials that the series fertilizer machine can use the simple compost turner machine to ferment the raw materials.And then it is to be equipped with the
fertilizer mixer machine
and fertilizer crusher machine to deal with the raw materials. Next, when producing the organic fertilizer granulator,
organic fertilizer granulation machine
are necessary to be equipped in the fertilizer manufacturing process. In organic fertilizer production line, we can use the double roller press machine which it is also to be equipped in organic fertilizer production line to finish the production process of the organic fertilizer granulator. The double roller granulator machine generally to be used by using the dry granulation method to finish the production process. This point is different from the rotary drum granulator machine that it is usually to use the wet granulation method to produce the fertilizer granulator.