Organic fertilizer can be produced by using the fertilizer machine or the traditional method in fermenting.But the traditional method of producing the organic fertilizer is lower efficient,and now the organic fertilizer market is widely,and the using of the organic fertilizer is also more widely.So using the organic fertilizer production line to produce organic fertilizer is more convenient.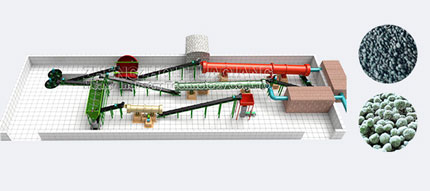 Generally,the production of organic fertilizer must go through the compost fermentation process.Composting is a process in which organic matter is continuously degraded and stabilized through the action of microorganisms under certain conditions,and a product suitable for land use is produced.In the
fertilizer manufacturing process
,it is using the traditional method to ferment the organic fertilizer needs to take more time to finish the production process.
Compost is an old and simple way to deal with organic waste and produce fertilizer.With the deepening of reasearch and the improvement of methods,its application has been attached great importance by various countries.Many reports have pointed out that improvement of methods,its application has been attached great importance by various countries.Many reports have pointed out that the seed seeded made of compost can inhabit soil borne diseases,and the antagonistic bacteria that come after the high temperature stage of composting process can make the number of bacteria reach a very high level;in the composting process,the organic substances are not easy to decompose,stable and easy to be absorbed by crops under the action of microorganisms;at the same time,the effect of microorganisms can reduce the weight with a certain range.The effect of poisoning.It can be seen that composting is a simple and effective way to produce bio organic fertilizer,which is benfical to the development of ecological agriculture.However,in recent years,with the development of fertilier market and the advancement of fertilizer production technology,various series of fertilizer production equipment have been produced.And the organic fertilizer production line which in the line,it is equipped with organic fertilizer machine to be equipped to finish the production process.
In organic fertilizer manufacturing process,it is equipped with the fermentation compost turner machine to ferment the raw mateirlas for sometime and then using the fertilizer mixer machine and fertilizer crusher machine to deal with the raw materials.When making granulator using the
fertilizer granulator machine
,we are first to chooese the suitable fertilizer granulator mahine.In organic fertilizer production line,we can use the rotary drum granulator machine to make the organic fertilizer granulator.Using the
rotary drum granulator
machine to make organic fertilizer granulator is higher efficient and more beautiful shape.
Using the automatic or semi-automatic
organic fertilizer machine
to make organic fertilizer is higher efficient and save more time to make the organic fertilize granular.