BB organic fertilizer mixer
The newly developed
fertilizer mixer machine
in our factory is a conplete set of equipment which absorbs foreign advanced fertilizer-makinf technology and can further improve the production process of solid compound fertilizer. The equipment has novel design and strong practicability. It is mainly composed of lifting feeding system, high-precision mixing system, storage system rack, electric control system and so on. The system has nomaterial, and the mixing system is homogeneous, which can be self flow packaging and continuous production.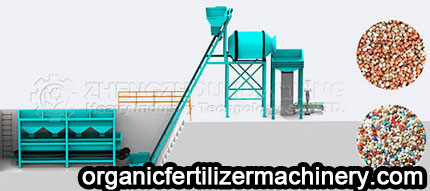 The bb fertilizer blender is input materials though the feeding lifting system, the steel bin goes up and down to feed materials, which directly discharged into the nixer, and then passed to the roller by rotation. The bb fertilizer production line eliminates the fertilizer granulation process.Therefore,
organic fertilizer granulation machine
is not required. When working, clockwise rotation ix materials, anticlockwise rotations discharge materials, the fertilizer stay in material bin for a shile, then automatically drop down through the gate.

Advantages:low price, small land cover, high production, mixing evenly.
Feature of bb fertilizer machine:
1.High granulation rate(>=95%).
2.Granulating well.
3.Capacity:2,0000-4,0000 ton/year.